On the first Monday in May of 2023, the Met Gala took place. Celebrities paid several tributes to the late, great Karl Lagerfeld during the event, which was held in his honour. 
As competing fashion houses reinterpreted some of his most well-known designs, some people wore vintage pieces made by the man himself, while others wore pieces that were inspired by his aesthetic.
Black and white outfits predominated on the red carpet, but there were also numerous references to the Camellia, a ton of pearls, a hint of tweed, and hundreds upon thousands of crystal embellishments.

However, in this listicle, we will only be focusing on seven of the best looks from black celebrities who were present at the 2023 Met Gala. Let's get to it. 

1. Anok Yai In Prabal Gurung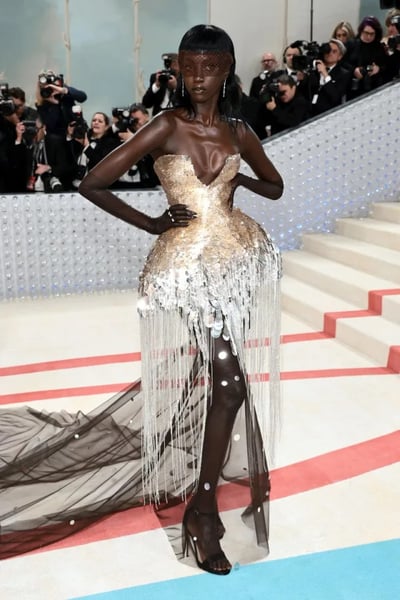 One of the night's best outfits came from Anok Yai and Prabal Gurung, who played with tulle, crystals, and the most beautiful silhouette.
She accessorized her tiny dress with edgy sunglasses and silky opera gloves that reached her elbows.
2. Michaela Coel in Schiaparelli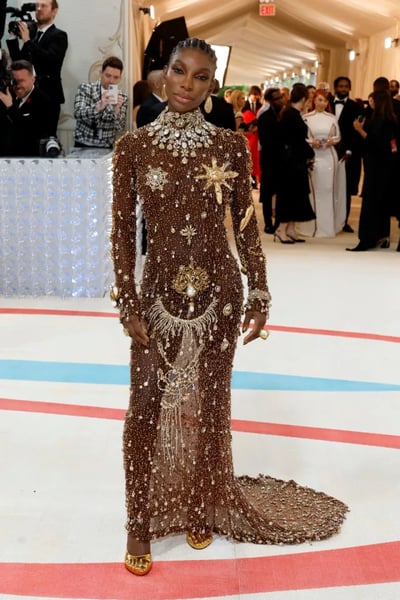 Michaela Coel had a big night because she was one of the hosts of the event. Because of this, she needed to look her best on the red carpet, which she did. 

For the occasion, the actress and director wore a Schiaparelli gown embellished with 130,000 crystals.
3. Burna Boy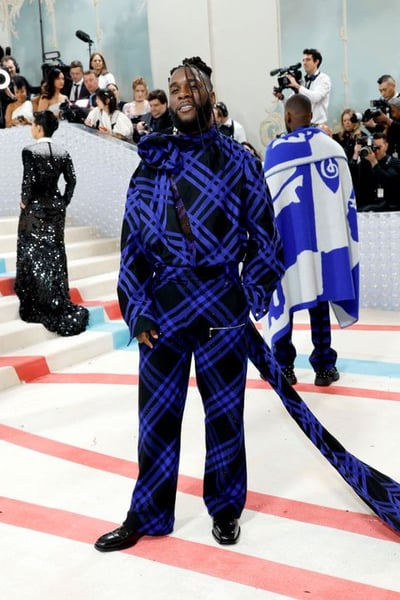 The self-acclaimed African giant didn't fail to impress coming to the met gala with the best looks any male celebrity good present.
Burna Boy wore a custom-made Burberry kingly blue and black outfit, which also had a regal touch.
The outfit was in all ramifications adorable while making both fans of Burna Boy and none fans drool for more.
4. ASAP Rocky Wearing Gucci and Boucheron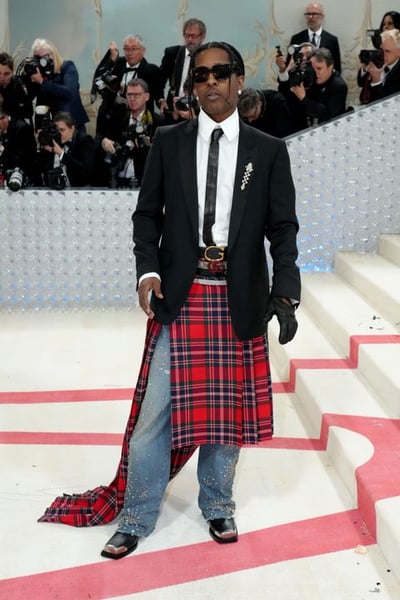 He dressed specially for the occasion in Gucci, paying homage to the late fashion house.
The outfit, which the brand published on its Instagram page, had a black blazer, a white dress shirt with a collar, a thin black leather tie, and a set of denim pants covered in jewels.
The artist wore a long tartan skirt over the top that was a nod to the attire Lagerfeld wore to Chanel's 2004 Tokyo runway show.

5. Rihanna in Valentino Haute Couture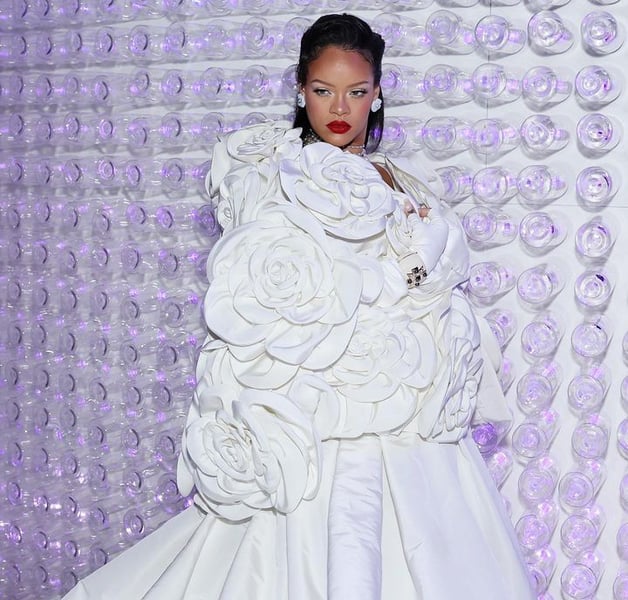 Rihanna consistently ranks among the Met Gala attendees with the best outfits, and she did not let us down in 2023.
The singer went for a stunning white haute couture ballgown by Valentino that came with a flowery headpiece that referred to the Camellia, the emblematic Chanel flower.
6. Naomi Campbell in vintage Chanel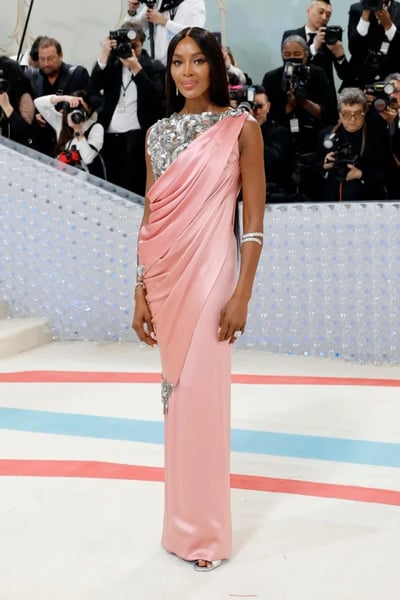 Naomi Campbell, along with many other Nineties supermodels, gave Karl Lagerfeld a homage by stepping out in one of his designs on an ideal night to wear a bit of vintage Chanel.
She made the stylish and sophisticated choice of a pink satin dress with embellished elements from Chanel's spring/summer 2010 couture line.
7. Ice Spice in a Sequined Balmain Gown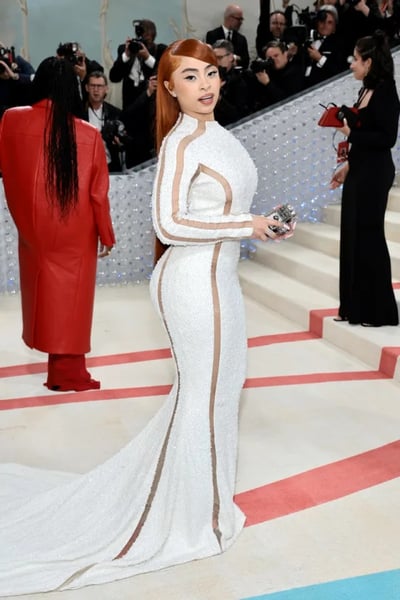 The "Munch" MC (real name Isis Gaston) dazzled the A-list crowd with a simple yet stunning, body-hugging white sequined Balmain gown in honour of this year's theme, "Karl Lagerfeld: A Line of Beauty."
She also ditched her distinctive orange curls in favour of a super-sleek, straightened appearance.
The "In Ha Mood" rapper was personally invited to the Met Gala by Vogue editor-in-chief Anna Wintour following their collaboration on a famous designer's collection, which was revealed at the Met Gala's live-streamed red carpet.
This was first reported by TMZ.