Following Friday's severe rains in Oyo State's Ido local government area, homes worth millions of Naira have been lost to flooding.
Additionally, webteam@ipledge2nigeria learned that the intense downpour forced hundreds of local government inhabitants to flee their homes.
Hundreds of residents in the cities and villages under the local government were reportedly affected by and had their means of subsistence damaged by the torrential rains on Friday evening.
Omi Adio, Ido, and Apata are a few of the afflicted regions.
Millions of naira's worth of shops, cars, and structures at Omi Adio market were damaged, and the torrential downpour also destroyed farmland and fish ponds.
No fewer than 80 fish farms were impacted, according to one of the affected farmers, Felix Asubiojo.
He lamented that he invested over N10m into his fish farming all of which were lost to the flood.
A trader who was also affected, Apeke Ajileye appealed to well-meaning Nigerians to assist the victims.
Ajileye claimed that she lost bags of garri, bags of cassava flowers and other foodstuff as a result of the flood.
She added that she used the shop to raise her three children after the demise of her husband.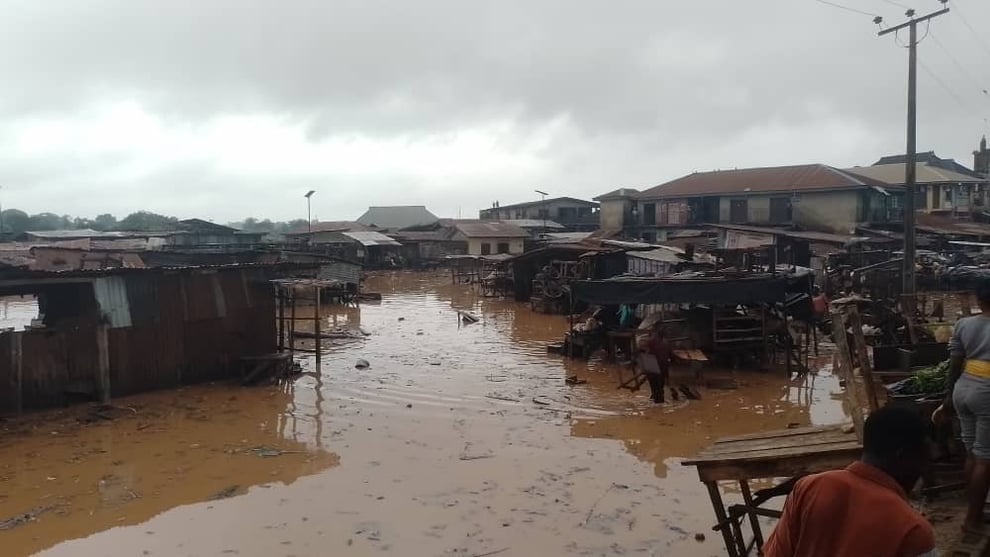 "Now, where do I start from? Everything is gone in the flood. Please help, please help. I am finished."
Ishiq Ogundele, a fish farmer with five fish ponds along Omi Adio and Ido town who was also affected, revealed how all the fish in the ponds were lost in the rains.
"I have concluded plans to harvest the fish, they were already five months only to see all the ponds emptied by flood.
"I even saw some of the fishes on the main road where some youths were fighting over them. This is a tragedy that will not be forgotten in life."