Daily thousands of Nigerians are seen at different passport offices in the Nigeria Immigration Service across the country to secure their passport and kick start their travelling plans.
The same scenario plays out at various foreign embassies across the country where large numbers of Nigerians applying for visas to such countries are seen daily processing their travel documents.
The economic situation of the country and its failed institutions keep compounding issues as more and more Nigerians are jumping into the Japa trend without vetting the juicy job offers hence many have become victims of organ harvesters, human trafficking and other demeaning travails.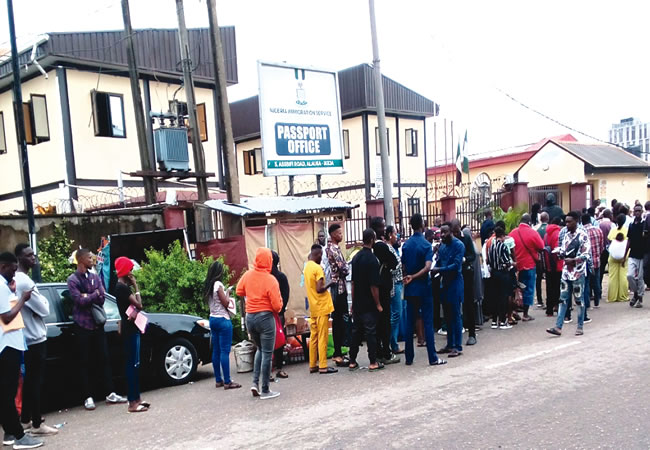 Recently ipledge2nigeria webteam was at the Ikoyi passport office in Lagos, as the Nigeria Immigration Service marked its 60th anniversary.
Addressing applicants the Comptroller, Lagos Passport Command Office, Mfon Udoh urged Nigerians relocating outside the country to cross check and ensure there is no hidden agenda behind the promised jobs and greener pastures.
Udoh who advised while speaking to applicants during the sixth anniversary of the Nigeria Immigration Service at the Ikoyi Passport Office said "Don't be carried away by all the fraudsters to go to get a good job, a juicy job and when you go there, things will become something else. Nigerians have become a victim of organ harvesters all in the name of employment. Always cross check, always make sure that there is no hidden agenda behind such promises because some end up in the desert dying, some end up losing their vital organs and other distractions that come with being cajoled. So make sure you get the right visa, if your child is going for studies, make sure the child gets the right Visa, especially when you are being promised jobs or any kind of job."
Explaining further UDOH said "When they get there, they end up falling into the wrong hands, falling into forced labour, prostitution, drug smuggling. So it is our responsibility to enlighten you, to safeguard you because knowledge is power."
Immediately after her speech, applicants both young and old walked into the different sections of the passport office obviously to kick-start their Japa process.
No doubt a country where large numbers of its citizens will do anything to flee the harsh economic reality, collapsed health care and insecurity is sitting on a time bomb.
Established in 1963 by the government, some corrupt officials in the Nigeria Immigration Service have continued to frustrate the digital process as they prefer the analogue method which allows them to extort applicants.
Those who apply online for their passport are treated like since and are frustrated for doing so.