Claims of a coup attempt in the Republic of the Congo, also known as Congo-Brazzaville, have been denied by the government there, which is run by President Denis Sassou Nguesso.
On Sunday, a coup attempt was allegedly being attempted in the nation while the president was away, according to several social media posts.
The nation's Minister of Communication and Media, Thierry Moungalla, swiftly debunked it on his X (formerly Twitter) profile.
"URGENT – Fanciful reports indicate that important events are taking place in Brazzaville.
"The Government denies this fake news. We reassure public opinion about the calm that reigns and invite people to calmly go about their activities," the minister tweeted.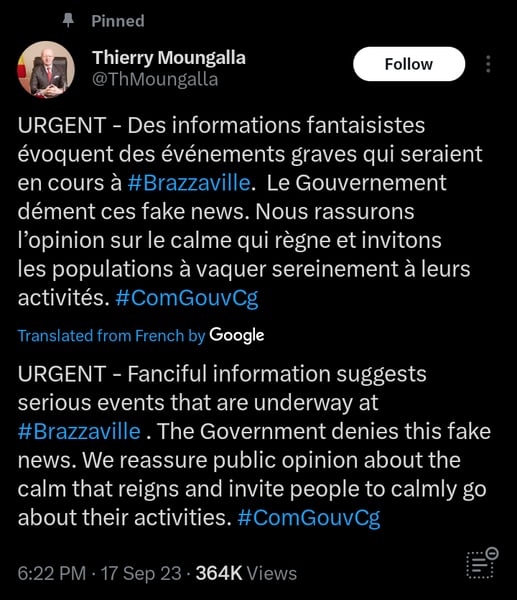 The president of the country is a former military officer who has been in power since 1997.
It should be noted that Africa has seen seven coups since August 2020, before the one in Gabon.
The military declared the removal of President Mohamed Bazoum on July 26, 2023. General Abdourahamane Tiani takes over as the country's new strongman.
On August 10, the Economic Community of West African States (ECOWAS) stated its intention to deploy a regional force to "restore constitutional order," while remaining committed to the diplomatic way.
In the latest of the coups, early on Wednesday, August 30, 2023, a group of Gabonese military officers announced a takeover of power and an annulment of the results of Saturday's election, which they claimed lacked credibility.
The announcement came shortly after the state election body said President Ali Bongo Ondimba had won a third term in office in the disputed elections.
The son of former President Omar Bongo who ruled Gabon from 1967-2009, Ali Bongo, has ruled the country since 2009.