To help African countries meet the Sustainable Development Goals and the 2030 Agenda, President Bola Tinubu has urged international cooperation.
In his first appearance at the event, Tinubu made the call during the UN General Assembly in New York.
In his opening remarks, he took the chance to remind everyone in attendance of the problems facing Africa, such as poor governance, unfulfilled promises, unequal treatment, and outright exploitation.
This is my opening statement before the General Assembly. Permit me to speak briefly about the subject for this year on behalf of Nigeria and Africa.
"Many proclamations have been made, yet our troubles remain close at hand. Failures in good governance have hindered Africa. But broken promises, unfair treatment and outright exploitation from abroad have also exacted a heavy toll on our ability to progress.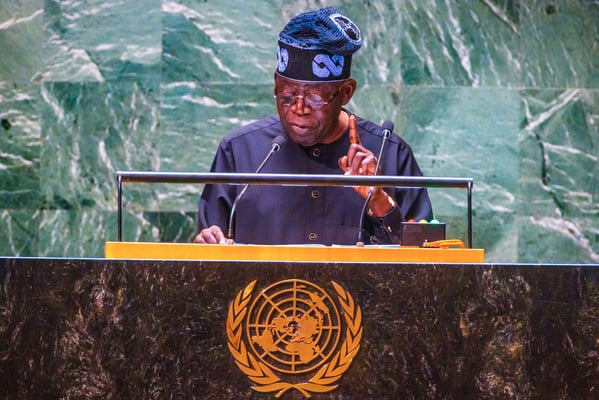 "Given this long history, if this year's theme is to mean anything at all, it must mean something special and particular to Africa.
"If Nigeria is to fulfil its duty to its people and the rest of Africa, we must create jobs and the belief in a better future for our people. We must also lead by example", he stated.
"In the aftermath of the Second World War, nations gathered in an attempt to rebuild their war-torn societies. A new global system was born and this great body, the United Nations, was established as a symbol and protector of the aspirations and finest ideals of humankind.
"Nations saw that it was in their own interests to help others exit the rubble and wasteland of war. Reliable and significant assistance allowed countries emaciated by war to grow into strong and productive societies.
"The period was a highwater mark for trust in global institutions and the belief that humanity had learned the necessary lessons to move forward in global solidarity and harmony.
"Today and for several decades, Africa has been asking for the same level of political commitment and devotion of resources that described the Marshall Plan.
"We realize that underlying conditions and causes of the economic challenges facing today's Africa are significantly different from those of post-war Europe.
"We are not asking for identical programs and actions. What we seek is an equally firm commitment to partnership. We seek enhanced international cooperation with African nations to achieve the 2030 agenda and Sustainable Development Goals", President Tinubu added.
Addressing the removal of the fuel subsidy in Nigeria, he disclosed that it is meant to foster economic growth and investor confidence in the country.
"I removed the costly and corrupt fuel subsidy while also discarding a noxious exchange rate system in my first days in office. Other growth and job-oriented reforms are in the wings.
"I am mindful of the transient hardship that reform can cause. However, it is necessary to go through this phase in order to establish a foundation for durable growth and investment to build the economy our people deserve.
"We welcome partnerships with those who do not mind seeing Nigeria and Africa assume larger roles in the global community.
"The question is not whether Nigeria is open for business. The question is how much of the world is truly open to doing business with Nigeria and Africa in an equal, mutually beneficial manner.
"Direct investment in critical industries, opening their ports to a wider range and larger quantity of African exports and meaningful debt relief are important aspects of the cooperation we seek.
"Second, we must affirm democratic governance as the best guarantor of the sovereign will and well-being of the people. Military coups are wrong, as is any tilted civilian political arrangement that perpetuates injustice.
"The wave crossing parts of Africa does not demonstrate favour towards coups. It is a demand for solutions to perennial problems."